Mon 05, Dec 2022 , Bridge Magazine
With Amy de Paula, NSW Clinical Services Manager, Continence Foundation of Australia
Amy de Paula has extensive experience working with the NDIS, both in her former role as an Occupational Therapist (OT) and in her current role as the NSW Clinical Services Manager for the Continence Foundation of Australia.
"The intention of the NDIS is to be a system that is individualised to peoples' needs and provides them with the right level of support that fits their disability and their life," says Amy. "For many people, a continence assessment will be an integral part of their NDIS plan. It is more than just generating a report to support funding consumables. It might change a person's continence management and improve their quality of life."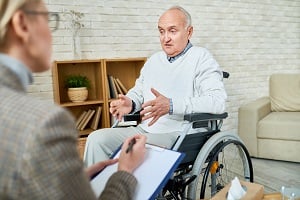 What does a continence assessment offer?
A continence assessment looks at the reasons for the incontinence or bladder and bowel challenge, and how to best support the person to manage it. This can range from recommendations that address the cause of the incontinence, to improved management techniques that can reduce the impact on lifestyle. "What people may think as normal for their bladder or bowel function may not be and can have negative effects on their health and daily living. An assessment can provide advice and means to access ongoing support," says Amy.
What happens at a NDIS Continence Assessment?
Your Nurse Continence Specialist will discuss your goals and what you would like to achieve from your assessment.

Your Nurse Continence Specialist will ask lots of questions about you and your bladder and/or bowel issues.

After your appointment, your Nurse Continence Specialist will write a detailed report.
Any suggested continence products, specific supports or therapy considered will be based on your individual situation and whether it is reasonable and necessary.
"A continence assessment is a vital service and is also available via telehealth so we can support anyone nationally," says Amy. "It's also important to remind carers and providers about this service, which may help them better support and manage the care of someone living with incontinence." 
What next?
A continence assessment may serve several purposes. It may be requested by an NDIS Planner to support the person having an appropriate budget for consumable products in their plan. The Nurse Continence Specialist may also provide new options to the person, such as new technology, products or best practice techniques which can improve the quality of care, continence status and quality of life.
At times, the assessment may highlight the need for further involvement with a Nurse Continence Specialist to establish a new routine or procedure, or to provide training to support staff. The Nurse Continence Specialist may also identify which other services may be required to improve quality of life and/or continence status, for example, dietitian, GP, urologist, pelvic floor physiotherapist, occupational therapist or behaviour support.
"For example, a person may be on medications which have a negative impact on bladder and bowel, causing continence issues," says Amy. "So, you need to build a team around your needs including your continence needs and a Nurse Continence Specialist can be an important member of that team."
Like any system, the NDIS can be challenging to navigate, however Amy believes a really positive step towards improvement and progress is the recent appointment of Paralympian and disability advocate Kurt Fearnley to the National Disability Insurance Agency (NDIA), the agency that runs the NDIS. With a new CEO and board members, comes new perspectives and fresh ideas for a better service.
In a recent press announcement Kurt said "I want to see the NDIS continue to be what we lobbied for all along – a purveyor of disability rights, which are human rights. We need the NDIA to be a success for the country we believe it is. The country needs an NDIS that is trusted, is efficient and effective and I hope that I play a part in that. Disability is complex, disability is varied and there are many disability stories to tell. To potentially see people with disabilities - look on the scheme and see themselves as chair, as a chunk of the board – I think that is an exciting time," he said.
Looking to book an assessment?
The Continence Foundation of Australia provide NDIS-funded continence supports, such as comprehensive assessments, reports and support to improve continence-related care. We have a nation-wide telehealth service, and a limited capacity for face-to-face services in Melbourne and Sydney.
Continence assessments, therapy and reviews are conducted by Nurse Continence Specialists who are Registered Nurses with further qualifications and experience in continence assessment, management and care.
Contact us on (03) 9816 8266 or  [email protected] for more information. Our referral form, service agreements and costs can be viewed here on our website.
Where else can I get help?
The Foundation also provides The National Continence Helpline (1800 33 00 66) which is staffed by Nurse Continence Specialists who offer free and confidential advice, a wide range of continence resources and information on local continence services, including other NDIS providers.
The Helpline is available to anyone living in Australia and is funded by the Australian Government Department of Health. It operates 8am-8pm (AEST/AEDT) Monday to Friday excluding national public holidays
60