It is with great pleasure the Continence Foundation of Australia invites you to attend our flagship event and now the 30th National Conference on Incontinence (NCOI 2022). Australia's leading multidisciplinary meeting for healthcare professionals working in bladder, bowel, and pelvic health, will be held on 11-14 May 2022, at the Melbourne Convention & Exhibition Centre, located in the vibrant South Wharf precinct of the city of Melbourne.
This is a unique professional development opportunity for doctors, nurses, physiotherapists, medical researchers, specialists, and other allied health professionals to hear the latest research from international and Australian experts, and the most up to date evidence-based best practice. It is also an excellent forum for all your networking needs, providing access to leading specialists, practitioners, and decision makers in continence care.
NCOI 2022 provides an exclusive prospect for Foundation corporate partners and sponsors to showcase their latest products and services and engage with a multidisciplinary audience in a professional setting. We are also thrilled to announce the Melbourne Convention and Exhibition Centre as one of the first major venues to join our bins4Blokes campaign, installing permanent bins for disposal of incontinence products in 8 of the male toilets in the Centre.
The conference program will run from Wednesday 11 – Saturday 14 May 2022, commencing with a full first day of workshops, followed by two and a half days of plenary and abstract presentations. The program includes a welcome reception, conference dinner and exhibit hall, providing numerous opportunities to connect and access information and support.
The full program and further information will be announced in the coming months.
Call for Abstracts and Workshop Proposals now open
An opportunity for researchers working in the continence sector to participate in this fantastic multidisciplinary conference with leading experts.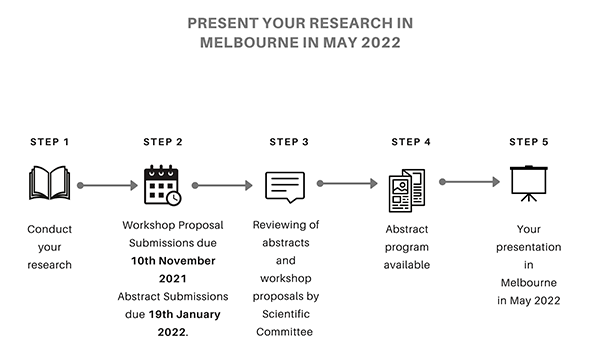 Sponsorship & Exhibition          
We invite you to invest in one of the many sponsorship opportunities offered in this prospectus. Alternatively, if there are other ways you would like to participate in NCOI 2022, please don't hesitate to contact us.
Thank you in advance for supporting NCOI 2022 and contributing to the success of our scientific conference.



Key dates:


 
Call for Abstracts & Workshop Proposals: Now open
 
Workshop Proposal – deadline extended to 10 November 2021

Abstract submissions – deadline extended to 19 January 2022
Deadline extensions are in recognition the affect COVID restrictions have had on delaying and cancelling many research projects. No further extensions will be possible. 
 
Program announced: November

Registrations open: February

Early bird registration closes: April
 
Contact
Continence Foundation of Australia
P: +61 3 8692 8400
100