The Continence Foundation of Australia's 2021-22 Pre-Budget Submission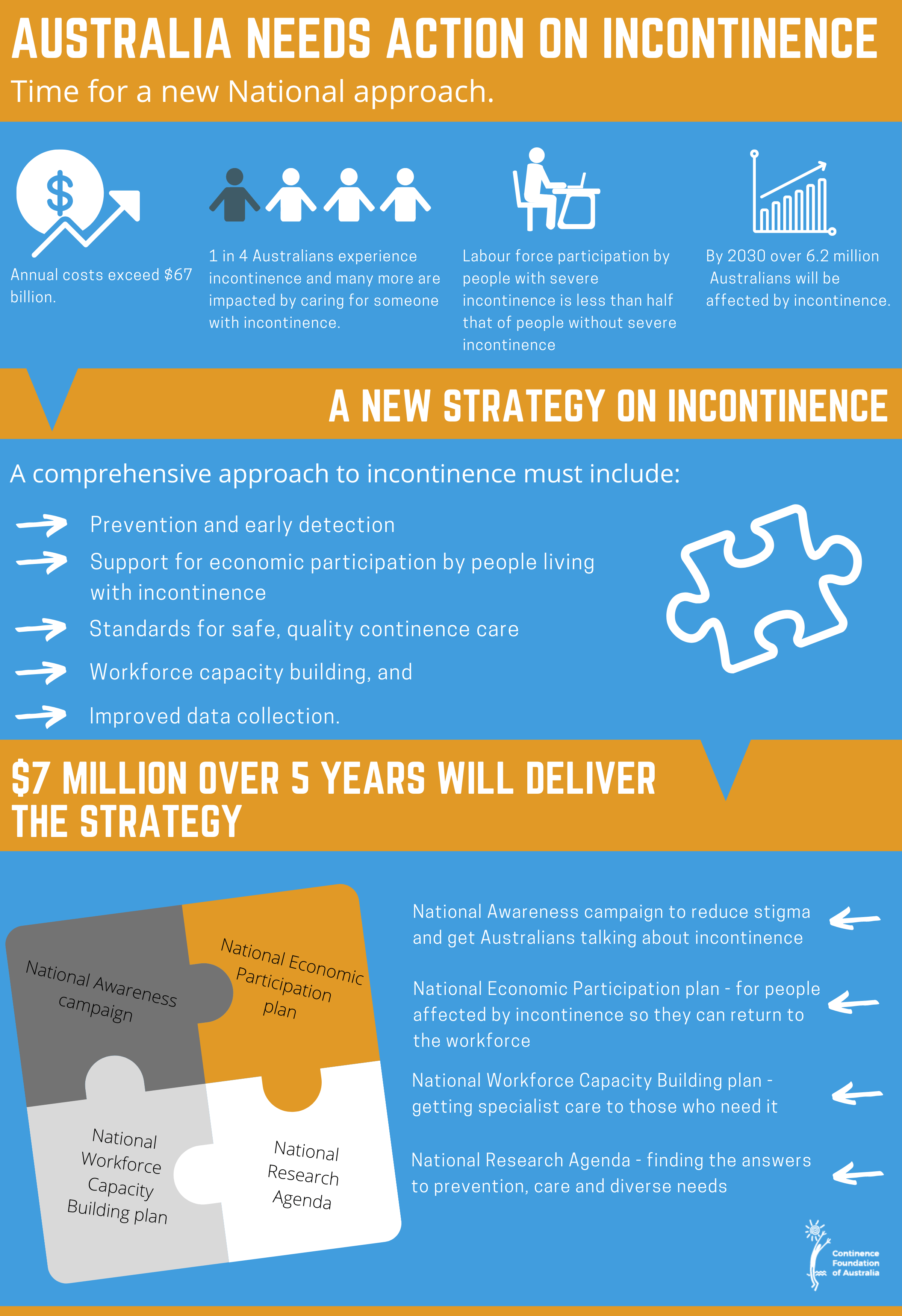 The Continence Foundation of Australia contributed to the Federal Government's 2021-22 budget, following the annual call for pre-Budget submissions. 
The Foundation's submission outlines how strategic action in the 2021-22 budget would improve quality of life of all Australians, but particularly for older people and people with disability. 
With 6.2 million Australians set to be affected by incontinence by 2030, the Continence Foundation of Australia is calling for an urgent action plan.  
Despite the growing prevalence of incontinence, there is currently no funding commitment or action plan from the Federal Government beyond June 2021. 
A new National Strategy on Incontinence will ensure Australia can meet the needs of future challenges, including the urgent aged care sector reforms arising from the Royal Commission and our changing demographics. 
Our submission proposes a focus on four key areas: maximising national awareness, boosting workforce capacity, economic participation and ongoing research.
The Foundation looks forward to working with the Australian Government to deliver improved health outcomes for all Australians.
The Continence Foundation of Australia aims to influence policymakers and impact policies to ensure they consider the needs of people affected by incontinence.
Our advocacy efforts currently focus on the following issues:
Increasing awareness of incontinence as a significant health issue for many Australians.
Improving the screening and assessment of incontinence for Australians accessing aged care services and those with disability to ensure their care is safe and effective, individualised and maintains their dignity.
Improving funding for continence products and assessments to ensure that continence care and incontinence management is safe and effective for older Australians and those with a disability.
Highlighting the need for education about how to provide safe and effective continence care and incontinence management is included in the foundation courses of all health professionals, allied health workers and personal care workers.
Improving access to continence assessments that are undertaken by suitably-trained and qualified practitioners.
Women's Health
The Foundation made a submission to a consultation on the National Women's Health Strategy 2020–2030. As a result of the Foundation's submission, incontinence has now been acknowledged as a young women's health issue and not just an issue as women age. The Strategy now calls for improved treatment, support and access to specialist primary care services for women with urinary and faecal incontinence.
Men's Health
The Foundation made a submission to a consultation on the National Men's Health Strategy 2020–2030 which raised incontinence as an unrecognised men's health issue which needs to be part of a men's health agenda.
The Foundation is currently advocating for the installation of continence product bins in men's toilets through our BINS4Blokes campaign.
Older Australians
Safe and effective continence care and incontinence management which is person-centred, provides choice and maintains dignity is the right of all Australians accessing aged care services. To ensure policymakers understood this need, the Foundation made submissions to the following consultations:
Royal Commission into Aged Care Quality and Safety
Streamlined Consumer Assessment for Aged Care
Proposal for a New Residential Aged Care Funding Model
Australians with disability
To ensure access to continence assessments through NDIS-registered providers are safe, effective and undertaken by suitably-trained and qualified practitioners, the Foundation made submissions to the following consultations:
NDIS Thin Markets Project
NDIS Annual Price Review 2020-21
NDIS Workforce Plan
Workforce education
To highlight the current inadequacies in Australian workforce education regarding continence care and incontinence management, at both the tertiary and vocational levels of education and training, the Foundation made submissions to the following consultations:
Educating the Nurse of the Future - Independent Review of Nursing Education
RACGP Standards for General Practice Residential Aged Care
100