Thu 09, Jun 2022 , Bridge Magazine , News
In March 2011, Allan became severely incontinent after undergoing an operation to remove his prostate gland due to cancer. After seeing a Nurse Continence Specialist, he joined a support group where he learnt about managing his incontinence and was advised to apply for the Continence Aids Payment Scheme (CAPS).
Allan also visited pelvic floor physiotherapists and underwent electrical stimulation therapy to help improve his pelvic floor muscles.

Unfortunately this treatment didn't stimulate the muscles as intended, so after twelve months, his doctor recommended Allan be fitted with a urethral sling. When the sling didn't adequately manage his incontinence, Allan underwent further surgery to have an artificial urinary sphincter (AUS) which he has now had for nine years.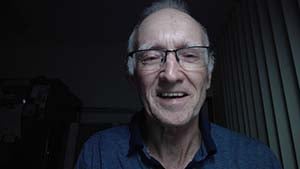 Even though the AUS isn't working to its full potential due to Allan's medical issues, it has still improved his life for the better. He does still need to wear pads but is now only using one a day unless he undertakes heaving lifting. 
At night Allan wears a larger pad as the AUS is turned off so that his bladder can empty completely. He has no control of his continence when the AUS is turned off "You don't feel the urge, you only notice when it's too late!" he says.Allan works during the day as a volunteer for Cancer Connect, a free service through the Cancer Council, cancer.org.au where men who have just been diagnosed with prostate cancer can connect with other men going through a similar experience for advice and support.
WHAT IS AN ARTIFICIAL URINARY SPHINCTER?
The urinary sphincter is a muscle that helps control the flow of urine from the bladder. An artificial urinary sphincter (AUS) is a surgical device that may be a treatment option for some types of male urinary incontinence. It consists of a cuff that wraps around the urethra, a pump in the scrotum and a balloon in the abdomen that stores fluid and regulates the flow of fluid in and out of the cuff. 
When full, the fluid inside the cuff puts pressure around the urethra and prevents urine from leaking out from the bladder until the need to urinate. Squeezing the pump in the scrotum causes the cuff to deflate by releasing the fluid into the balloon within the abdomen, allowing the passage of urine.
60