Mon 15, Jun 2020 , World Continence Week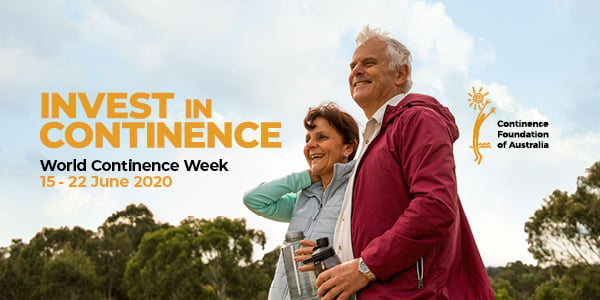 Australian men and women aged 60 years and over are being encouraged to adopt 5 Healthy Habits to prevent incontinence.
Incontinence costs the nation more than $67 billion annually and is one of the leading reasons older Australians are admitted to residential aged care.
As part of World Continence Week, (15-22 June) senior Australians are being encouraged to invest time in healthy habits to prevent incontinence. 
"Your retirement dreams may include travel, time with your grandchildren, or hours on the golf course or bowling green," Continence Foundation of Australia CEO Rowan Cockerell said.
"But have you overlooked the one thing that could ruin your plans?
"Prevention, or better management of incontinence means spending your senior years as planned – investing your time in the activities you enjoy."
More than five million Australians, or 1 in 4 people aged 15 years or over, experience incontinence.
It impacts self-esteem, motivation, dignity and independence.
Continence Foundation of Australia's new public awareness campaign Invest in Continence, focuses on 5 Healthy Habits that are the key to preventing incontinence for most Australians. The habits include a healthy diet and staying hydrated, 30 minutes of exercise every day and good toilet practice.
Pelvic Health Physiotherapist Annabelle Citroen works with many retirees whose plans have been impacted by their pelvic health issues.
"Healthy habits are the key to unlocking your freedom from bladder and bowel issues," Ms Citroen said.  
"Ensuring that you stay healthy at all stages of your life, particularly after you retire, can help you avoid incontinence and stay independent."
The good news is, in many cases incontinence can be prevented, better managed and even cured.
Urological Surgeon Dr Samantha Pillay is passionate about motivating Australians to adopt healthy lifestyle habits to prevent incontinence. 
"Are you someone who exercises to keep fit but never does pelvic floor exercises?  If you don't do pelvic floor exercises what do you expect is going to happen to those muscles with age?"
"Pelvic floor exercises can help prevent and treat bowel and urinary incontinence.  Just like other parts of your body some effort is required to maintain optimal function," Dr Pillay said.   
Continence Foundation of Australia has developed a range of resources to support the campaign, including a series of live webinars based on the 5 Healthy Habits.
The webinars will run daily during World Continence Week and feature health presenters and subject matter experts on topics such as increasing fibre in your diet, making exercise part of your day, and how to keep your pelvic floor in shape.
For further information, advice and support you can call the National Continence Helpline on 1800 33 00 66 to speak to an experienced continence nurse specialist. The National Continence Helpline operates 8am - 8pm (AEST) Monday - Friday.
Incontinence fast facts

Over 5 million Australians – 1 in 4 people aged 15 years or over – experience incontinence
80% of people living with urinary incontinence are women
Half of those women are aged under 50 years
1 in 3 women who ever had a baby wet themselves
Bladder and bowel problems are not a natural part of ageing or having a baby
Less than two out of 10 women (17.6%) do their pelvic floor exercises daily
Men suffer from incontinence too. 25% of men say they are or were incontinent- up to 30% for over 70-year-olds
Strong pelvic floor muscles are necessary for bladder and bowel control and good sexual function.
Pelvic floor muscle exercises have been shown to prevent and treat incontinence at any age
70% of incontinent people do not seek help
Incontinence impacts self-esteem, motivation, dignity and independence
Losing 5-10% of body weight reduces the incidence of incontinence by 70 per cent.
Incontinence costs the nation over $67 billion annually.
60