Wed 29, May 2019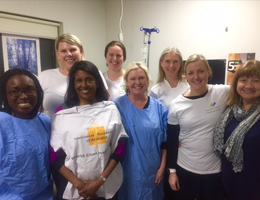 The continence team at Victoria's Western Health has won the Continence Foundation of Australia's World Continence Week competition for its work to raise awareness and reduce the stigma of incontinence in its community of nearly 800,000 residents.
The team, that provides continence health in the municipalities of Hobsons Bay, Brimbank, Melton, Wyndham and Hume, was recognised for its multi-disciplinary health education program aimed at patients, colleagues and the general public.
Continence Foundation Chief Executive, Rowan Cockerell said Western Health embraced the World Continence Week theme, "No laughing matter" to encourage people to do more than just laugh-off the condition that affects one in four Australians.
"Western Health's continence service, urology, urogynaeology and education departments joined forces to promote bladder and bowel health across the network. Through their lecture series, workshops, presentations, noticeboards, newsletters and morning tea, they have helped ensure the residents in their communities are best positioned to receive timely, appropriate and co-ordinated access and care for bladder and bowel health," Mrs Cockerell said.
As part of their prize, the Western Continence Service team will join world clinical experts at the Continence Foundation of Australia's upcoming 26th National Conference on Incontinence to be held in Sydney in November. The Conference will showcase the latest research and practise in the field of incontinence management from around the world.
Western Continence Service's Team Leader, Joanne Cocks said she's thrilled that the dedication of the team has been recognised.
"Continence is a socially and emotionally debilitating condition that has a massive impact on quality of life. Many people feel they need to quit their work or withdraw from friends and family as they can't engage in daily activities because of their bladder and/or bowel issues. We work with our patients through exercise, medications, aids, nutrition and a broad range of resources, to help them regain control and live life," Ms Cocks said.
A ten-year veteran of continence health, Ms Cocks said she is delighted to see the perception of the condition gradually shifting.
"I do think the stigma around continence is lifting but I would like to see the discussions about bowel and bladder health become more commonplace, like other chronic health conditions like diabetes," she said.
Mrs Cockerell said the reach and impact of incontinence is vast.
"Incontinence affects almost five million Australians including men, women and children of all ages, and abilities. Bladder and bowel control problems won't get better on their own, however 70 per cent of people affected by incontinence do not discuss the issue with anyone, even their GP. We want everyone to know that most cases can be cured or better managed," she said.
The Western Continence Service consults across three hospitals within the network and can attend home visits for nursing assessments if required.
The Western Continence Service team consists of continence physiotherapists, Sarah Davies and Alesha Sayner; continence nurses, Merrill McPhee, Julie Hazell, Vicki Green, Caroline Freebairn ; and geriatricians, Dr Lynda Appiah-Kubi and Dr Shiki Joseph.
"We are looking forward to the many opportunities the National Conference will provide. Attending the clinical workshops and lectures will ensure our knowledge and skills are up to date. And learning about new research in the area of bladder and bowel care is important to make sure we continue to provide the best evidence-based care to our patients," Ms Cocks said.
60