Wed 16, Dec 2020 , Bridge Magazine , Personal Stories
Every year, the Continence Foundation of Australia celebrates the role of carers with the Continence Carer of the Year Award. In 2020, we are proud to recognise Robert Sykes of Coffs Harbour, NSW, with the Award. 
"I was lost for words. I don't consider myself any different to anybody else, just doing my job and looking after my family. My daughter is family." – Robert Sykes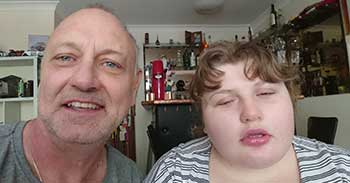 A fitter and turner by trade, Robert Sykes' switch to full-time carer was unexpected. Almost 20 years later there's no doubt that his kind and supportive nature makes him an amazing carer to his daughter Olivia. 
In 2001, Rob and wife Sharron were expecting their first child, Olivia.  
"One minute we were just a couple waiting for their first daughter to be born and suddenly, we got this whole new world to look into." 
The diagnosis 
Olivia was diagnosed with the rare WAGR syndrome a few months after being born. The syndrome can include complex health needs like global developmental delay, and eye problems like cataracts. For Rob and Sharron, this didn't change anything.  
"When they gave us the diagnosis, we said 'you know, nobody's flicked a switch in her'. She's still the same little girl we've had for three months. They've just told us something about it. Let's just work with that," Rob says. 
They had to get used to a lot of "worst-case scenario talk" when being told what to expect. 
"They said that she'd have trouble walking and things like that. And it turned out she didn't really have trouble walking," Rob says.  
Together, Rob and Sharron made the "purely practical" decision for Rob to stop work and become Olivia's primary carer.  
Dropping Olivia off at her first day at kinder, Rob had all the usual emotions and worries of any parent. He remembers gripping the steering wheel and crying, worried that tiny Olivia "would get eaten up".  
This story was first published in Bridge magazine. Subscribe to Bridge online. 
Inspired to volunteer 
Olivia was happy at school and there was suddenly some spare time during the day to squeeze in new interests. Rob was inspired by the support services he accessed for Olivia and started a Diploma of Community Welfare, later working in disability support and aged care. 
During school hours, he volunteered at a carers centre. He used his counselling skills to phone carers to check in, and organised days out for other male carers to talk about what was on their minds – or simply enjoy the footy. 
"It also helped me. You're seeing other people and how they're dealing with it. The counselling aspect involves a lot of self-examination.  
"I thought it put me in a better mind state than if I just sat there and thought 'oh, this is a load of rubbish'. You always look for the good side." 
Rob brings this cheerful energy into everything he does. Together, their family celebrates the wins and every step Olivia takes towards independence.  
Finding a routine 
Olivia is non-verbal, and Rob is always looking for signs and cues to better understand her needs. He noticed that Olivia was waking up unhappy some mornings. Trying some new things in the toileting routine ended up making a huge difference to her wellbeing and mood.  
"So she has a dry night's sleep. And when she wakes up, she's far more happier," Rob says.  
Mental health 
He understands how important his own mental health is too, especially with his background in supporting other carers. 
"Burnout … it happened to me a couple of times. I just have a little fuel gauge … I can see it pictured in my head." 
"I can tell when it's getting down and know when I've got to take a day off or something. You have a little release mechanism. I listen to music or muck around in the garage."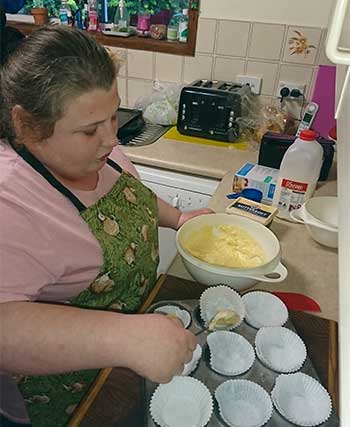 Olivia shares his love of music and together they spend time mixing and cooking, going on road trips and socialising.  
It's clear that Olivia will always have a special Dad, advocate and carer in Rob. 
Who can be a carer? 
Carers can be of any age, who provide unpaid care and support to family members or friends with a disability, mental illness, chronic condition, terminal illness, drug issue or who are frail aged.  
The 2020 Continence Carer of the Year Award is proudly sponsored by Molicare. 
This story was first published in Bridge Magazine. Subscribe and receive Bridge straight to your inbox.  
60