Wed 29, May 2019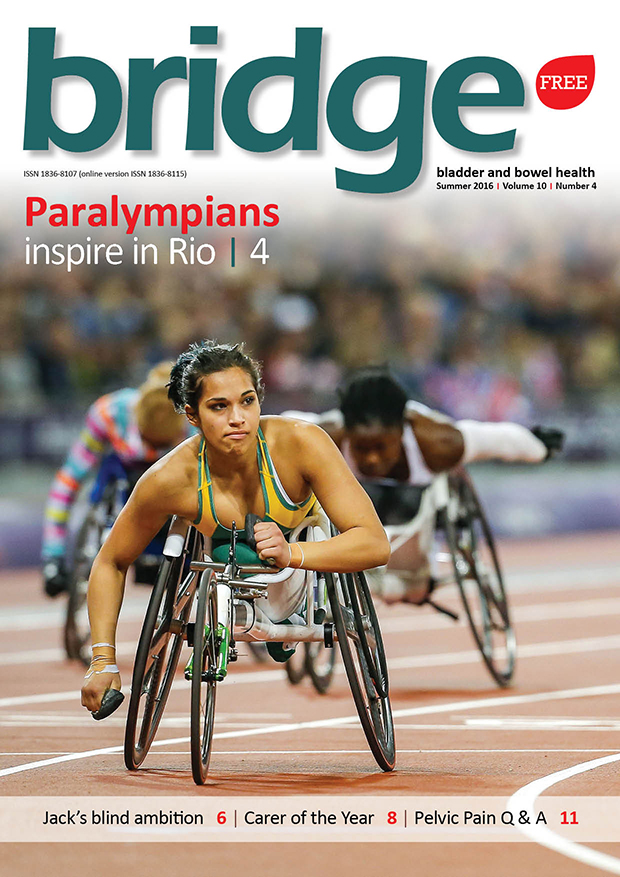 This edition of  has a strong accessibility theme, because a major focus of the Continence Foundation this year has been on disability access, in particular enabling people with disabilities greater access to our online and printed resources.
While access to information is critical for promoting healthy bladders and bowels, access to medical resources is even more important. This is  exemplified by the 2016 Carer of the Year Moira Turnbull, who cares for her severely disabled son, Glenn, who suffers from acute episodes of impacted bowel and reflux. Moira's story features in this edition of Bridge.
We also speak with Jack Tyrell, who lost his vision five years ago at the age of 20. This set-back, which was and remains a traumatic loss for Jack, only served to make him even more determined to forge a meaningful career for himself and others similarly disadvantaged. 
This edition also features an article about Australian Paralympic team physical therapies manager and sports physiotherapist Keren Faulkner, who provides rare insight into the exciting and challenging experiences working with the Paralympic team in Rio.
Shan Morrison and Patrician Neumann team up to offer expert clinical advice in our Q & A section on pelvic pain. We hear about inequitable public toilet accessibility around Australia from social scientist Dr Lisel O'Dwyer , and occupational therapist Debbie Atkins offers great tips on toilet training children and young adults with a disability on page 10.
Look out for your copy in the mail or email during the first week of December. If you're not a subscriber, phone the Helpline on 1800 33 00 66 to receive your regular copy. 
10