Thu 15, Sep 2016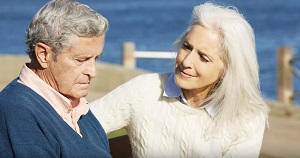 After a stroke, bladder or bowel control problems that arise may be due to a number of reasons including muscle weakness, changed sensations, difficulty responding to the urge to go, difficulty dressing or undressing, difficulties communicating, changes in eating and drinking habits, and changes to vision.
The Continence Foundation of Australia has developed a number of resources to inform and guide people affected by stroke and associated incontinence, their carers and health professions. These include a web page dedicated to Stroke and incontinence, which includes a three-minute video produced by the National Stroke Foundation and presented by Nurse Continence Specialist Steven Marburg.
The webpage also provides information about the causes of incontinence after stroke, what can be done to mitigate it, useful products and other supports, such as the Continence Aids Payment Scheme.
The Continence Foundation has also produced a downloadable fact sheet, Stroke and bladder and bowel control, in partnership with the National Stroke Foundation. It provides additional information about the types of incontinence that can occur after stroke, the procedure involved in a bladder assessment, advice for managing the restrictions of incontinence, signs of urinary tract infections (common after stroke), and the range of health professionals able to help stroke victims.
The Foundation has also developed a web page dedicated to carers of people affected by incontinence, with much of the content relevant to carers of people affected by stroke.  As well as providing information on topics ranging from Practical tips to Continence aids, from Local continence services to Education events, the web page provides links to a free, downloadable carer guidebook and several carer-related videos and fact sheets.
The Continence Foundation has also recently introduced a number of initiatives that aim to make its information and resources more accessible to the one in five Australians living with disabilities.These include:
The development of Easy English fact sheets on four key subjects:  How to have better bladder control, How to have better bowel control, Pelvic floor muscles exercises and Healthy bladder and bowel habits, available for download from the Continence Foundation website.
A new web page dedicated entirely to the NDIS (located under the website's Get Help menu tab) provides information about the NDIS for participants, carers and planners.
Health professionals can view educational videos presented by clinical experts on subjects that may be appropriate for the management of victims of stroke on the Australian Continence Exchange website.  Titles includes Incontinence in aged care, Incontinence and dementia in aged care, Prolapse and continence, Catheter care for health professionals and Neurogenic bladder dysfunction.
Victims of stroke, their carers and health professionals can also phone the National Continence Helpline on 1800 33 00 66 8am to 8m weekdays, AEST, for confidential advice and further information about bladder and bowel function, products and local continence clinics, plus a range of resources on continence-related products. 
60