Wed 29, May 2019 , Bridge Magazine
The Continence Foundation says a heartfelt 'thank you' to retiring Consumer Advisory Committee member and former Senior Australian Of The Year, Phil Herreen who will be refocusing his volunteer efforts to support local, SA-based organisations.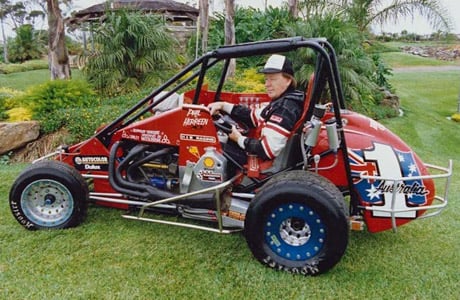 Phil Herreen's speedway life came to a sudden end on 2 April 1993 in a horrific crash at Speedway Park, Virginia in South Australia. The accident resulted in the 1992 National Speedcar Champion suffering severe spinal injuries which left him a paraplegic.
After four months in the Hampstead spinal injury rehabilitation unit, Phil become a member of the Paraplegic and Quadriplegic Association or ParaQuad (SA) and act as a peer support advocate and mentor at the rehabilitation centre. A position he held for the next 15 years.
During this period, Phil produced a number of magazines, videos and DVDs on the golden years (1949 - 1979) of Rowley Park Speedway in Brompton, South Australia to help raise funds for ParaQuad SA's member support programs and build transitional accommodation in SA and regional areas to give rehabilitation patients short-term leave or temporary accommodation away from the Hampstead Rehabilitation Centre.
In 2007, Phil received the Senior Australian Of The Year Award for his volunteer work, support of projects for the disability sector and as a member of Para-Quad Association of SA. He was also honoured with an Ambassadorship of the Australia Day Council.
In 2007, Phil was invited by the Continence Foundation of Australia, to become a member of its Consumer Advisory Steering Committee, a position he performed with great esteem.
In May 2017, he was inducted into the Speedway Australia Hall of Fame in recognition of his commitment and success as a racing competitor for 31 years (1962 - 1993). He had started racing at Rowley Park Speedway until it closed in 1979 and then raced at Speedway Park, Virginia, South Australia until 2 April 1993.
Phil was also a member of the SA Police and Transport SA as a facilitator in their Driver Intervention Program (DIP). This is a small group interactive workshop aimed at addressing the potential risks of the consequences of road trauma. The program is based on young offenders, 25 years of age and under, who have breached the conditions of their South Australian Learner's Permit or Provisional License and been disqualified from driving.
He became a member of the State Department of Planning, Transport and Infrastructure (DPTI) Advisory Group on public transport accessibility for people with a disability or confined to a wheelchair for mobility and independence.
Following a number of admissions to the Flinders Medical Centre, Phil became a member of the Hospital Consumer Group.
It is now 25 years since that fateful night on 2 April 1993, and at 75 years of age and with a number of personal health issues, Phil decided the time has come for him to relinquish his duties with the Continence Foundation.
We thank him for his tireless and invaluable contribution and wish him the best of health and happiness as he provides his wisdom and insight to those closer to his home.
 A PERSONAL MESSAGE FROM PHIL HERREEN:
"I wish to thank the Board and all the Members of the Consumer Advisory Group for the honour of being a part of such a professional and committed group, and I take this opportunity to wish you all the very best for the future". 
60