Wed 05, Jun 2019 , Health Articles , Bridge Magazine
Men's Health Week (10-16 June) is an opportunity for men to take that first step toward regaining control of their bladder and bowel.
Today, at least 1.34 million Australian boys and men are living with urinary or faecal incontinence with over a third under the age of 50 years. Most can be better managed, treated and, in some cases, cured.
Speak to your GP, continence nurse or specialised men's health physiotherapist who can help with a range of continence-related issues such as:
Prostate cancer diagnosis or preparation for prostate surgery or radiation therapy
Bladder urgency and frequency problems
Bowel issues including constipation or urgency and soiling
Chronic pelvic pain including anal, penile or testicular pain
Erectile dysfunction with difficulty achieving or sustaining an erection.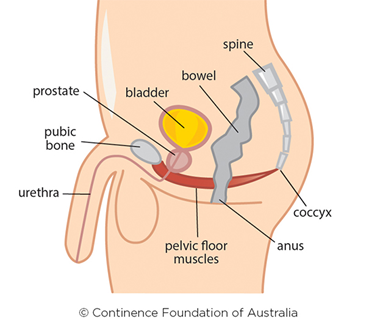 The prostate gland is a male reproductive organ. It is about the size of a walnut and sits at the base of the bladder. The thin tube (urethra) that carries urine and semen out of the penis runs through the centre of the prostate gland. At the point where the bladder and urethra join, there is a ring of muscles, known as the bladder neck sphincter, which opens and closes like a camera-shutter. The bladder neck sphincter is closed most of the time to prevent urine leaking out but when it gets permission from the brain, it opens to allow urine to be passed.
Another sphincter below the prostate gland called the pelvic floor muscles is also involved in bladder control. If the bladder neck sphincter is damaged during prostate surgery, the group of muscles called pelvic floor muscles can assist in the control of the passage of urine. If the pelvic floor is weak you may experience urinary incontinence.
Prostate surgery-related incontinence will usually improve with time, but you can speed up the recovery process and reduce the leakage by learning how to control the pelvic floor muscles. If you don't strengthen these muscles, the leakage may persist.
Men's health physiotherapists have the tools to assess and show you your pelvic floor muscles, using real time ultrasound. They can explain the anatomy, provide advice about your diagnosis or surgery and prescribe a personalised pelvic floor muscle exercise program.
If attending for prostate surgery, you will likely need one to two sessions preoperatively to learn how to contract your pelvic floor muscles correctly. The number of treatment sessions after your surgery is dependent on individual needs.
Get a copy of 'Prostate and Continence' or call the National Continence Helpline on 1800 33 00 66. The Helpline is a free and confidential service staffed by continence nurse advisors. They can help you find continence physiotherapists and other health professionals in your local area, as well as provide fact sheets and brochures.
For more information about prostate cancer or to find your local support group visit www.prostate.org.au
60