Tue 30, Aug 2022 , Bridge Magazine , News
Lyz Evans, Titled Pelvic Health Physiotherapist. Clinical Masters: Women's Health & Continence. B.App.Sci: Phy.

TELL ME ABOUT YOUR WORK AND THE IMPORTANCE OF PELVIC FLOOR HEALTH ACROSS THE LIFESPAN
I am here for women through all the life stages. Most commonly, a woman will present to me for the first time whilst she is pregnant or needs guidance after childbirth. However, it is important that we get the message out that looking after your pelvic health is critical across a woman's entire life span, commencing in childhood all the way through to the post-menopausal years. If pelvic floor, bladder, and bowel function is optimised in childhood, her rates of pelvic floor dysfunction later in life will be significantly reduced.

The other important message for women is that the period between having your children and reaching menopause is a critical time to focus on building up your pelvic floor muscles. Once a woman becomes menopausal, it is more challenging, but not impossible to build muscle bulk. If a woman can enter the perimenopausal years with a strong well-functioning pelvic floor she is far less likely to experience symptoms later in life. Many women are surprised when they reach menopause to suddenly experience symptoms such as wind incontinence, faecal smearing, urinary incontinence and prolapse. This can be bewildering for a woman who may have gone through her childbearing years without too much pelvic floor trouble and was not expecting this sudden onset of new symptoms.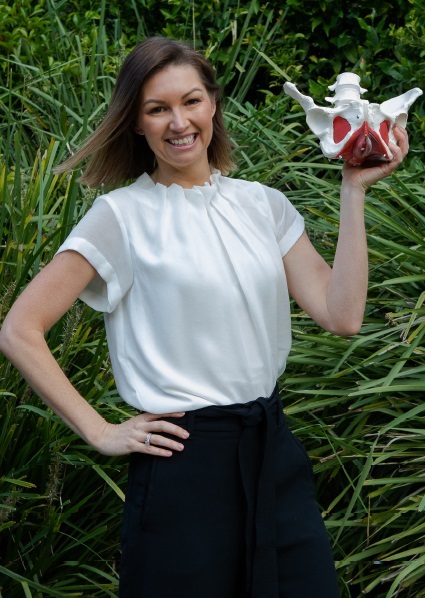 Lyz's key area of research and expertise is obstetric anal sphincter injury (OASI). Defined as damage to the anal sphincter muscles which occurs during childbirth, OASI is also referred to as third- or fourth degree tears and is a major contributing cause of anal incontinence for women following childbirth and in the menopausal years.
HOW DID YOUR INTEREST IN OBSTETRIC ANAL SPHINCTER INJURY (OASI) DEVELOP? WAS IT SOMETHING YOU SAW A LOT OF AT SYDNEY ROYAL WOMEN'S HOSPITAL?
Whilst working as a pelvic floor physiotherapist at the Royal Women's Hospital in Sydney, I clearly remember one of the first patients who had a long-lasting impact on me. Ashani* had recently given birth to her first baby during which she had sustained a fourth-degree tear that did not heal well. She was understandably traumatised by the birth and experienced ongoing faecal and flatulence incontinence as well as pain. The impact of Ashani's* experience prevented her return to work in a factory where employees were only permitted two toilet breaks per day, something she knew would be impossible for her. Her inability to work and be intimate with her husband put significant strain on the relationship which eventually broke down.
Stories like Ashani's* illustrate not just the immediate impact of birth trauma, but the ongoing physical, mental and emotional effects. This led me to my own research on the long-term impact of OASI, which showed the substantial influence on a woman's future birth choices, sexual and bowel function, quality of life and mental health issues.

My research revealed that women were without doubt suffering and for a longer period of time than was previously accepted. The physical impacts of giving birth can run deep and seep into so many areas of her life. We found that over 50% of women were suffering from symptoms the average individual would deem unacceptable, at an average of four years post birth. Of these, 51% were experiencing ongoing bowel issues, 46% reported quality of life impact, 25% reported mental health issues, 19% had to alter exercise, 45% reported an impact on family planning, and 10% decided to have no further children because of the tear. I think these findings are staggering, and more needs to be done to not only support these women but prevent them from happening in the first place.
YOU IDENTIFIED A GENERAL LACK OF FOLLOW UP CARE FOR WOMEN AFTER CHILDBIRTH. HOW DO YOU THINK THINGS HAVE CHANGED FOR THE BETTER?
I think we are at a crisis point. Birth trauma rates are high, women are often birthing in a fearful state with very little follow up support. Healthcare providers are doing an incredible job with the resources they have; however, the system is stretched, and we are not adequately funded to provide women with what they really need during pregnancy, birth or the post-natal year. Women need to be provided greater support and education along the entire journey and have access to a pelvic health physiotherapist who can work with them to prepare their pelvic floor for birth during pregnancy and help them recover optimally post birth.

The cost of incontinence and prolapse continues to rise and places a significant toll on health care expenditure each year. The time has come that we need to wake up and start doing more to prevent birth trauma happening in the first place.

Whilst there hasn't been a huge change in access to support such as government funded pelvic health physiotherapy and psychology for birthing women, there has been a wonderful Clinical standard of Care for third- and fourth-degree tears that was released last year by the Royal Australian Commission on Safety and Quality in HealthCare. It Identifies seven key areas to assist in the prevention and identification of third- and fourth degree tears and provides recommendations for follow up support such as pelvic health physiotherapy.

There is still a long way to go, but this really is a great step in the right direction and should result in better outcomes for women that do sustain a third- or fourth degree tear. The data on the incidence of third- or fourth degree tears looks to be reducing which is really promising.

WHAT COULD STILL BE IMPROVED?
Currently, birthing women will have a six-week post-natal check with their midwife, obstetrician or GP. In this appointment everything from wound recovery, feeding, vaccination, mental health to family planning is covered. Women need to be given Medicare funded access to a pelvic health physiotherapist as part of routine care. My professional body, The Australian Physiotherapy Association, is currently working hard on petitioning the federal government to do this.

WHAT ARE THE MOST IMPORTANT QUESTIONS TO ASK A POST-NATAL WOMAN WHEN SHE COMES TO YOU FOR HELP WITH PELVIC FLOOR ISSUES?
I am very aware that I may be the only person who ever sees a woman for her pelvic floor, so I consider it my duty of care to ask her everything to give her the opportunity to share in a safe space what is going on with her body that she may never have told anyone. I help women realise they are not the only ones, and that there is a lot that can be done to help.

I run a clinic in Sydney called Women in Focus Physiotherapy and we see it as a team effort to ensure the woman feels comfortable from the minute she arrives. Once in the consultation room I explain that I am there to hear her story and want to hear in her own words why she has come to see me. I tell her that I am going to ask many detailed questions about her bladder, bowel and sexual function and not to be embarrassed. I let her know that nothing will shock or surprise me, I've heard it all, as issues with the pelvic floor, bladder and bowel are more common than you think. The more I know, the more chance I can help.

WHAT DO YOU DO TO MAKE A WOMAN FEEL AT EASE WHEN HAVING A VAGINAL EXAMINATION?
I will always try to communicate clearly during the consultation and let her know that she is in charge. I might say to a woman, based on the information you have given me, I need to know more about your pelvic floor function, and this may involve a vaginal examination. We may start with an ultrasound, but this only shows if a muscle lifts and lets go. It doesn't tell us anything about the tone or strength of the muscles and whether there is a prolapse, avulsions, skin conditions, spasm or tears.

If a woman is not comfortable having a vaginal examination, that is absolutely fine. It is her body, her choice, and I will do my best with the information I have. I will also her ask about any history of sexual trauma or abuse prior to the examination as its important for me to know if the appointment could be a particularly difficult, triggering, or traumatising experience for her.

WHAT IS YOUR ADVICE FOR POSTNATAL WOMEN WANTING TO RETURN TO EXERCISE, PARTICULARLY IF THEY WERE VERY ACTIVE BEFOREHAND?
I refer to the first three months after birth as the 'fourth trimester.' This is a time when everything is still open and soft and a woman needs to give herself the rest, care and support she needs to recover.

One of my key messages to post-natal women is please don't race back to pounding the pavement too quickly! Your body has changed, and it won't just automatically switch back to being able to do what it did before pregnancy and childbirth.

Over the course of nine months, a woman's body has physically and hormonally changed. Childbirth is quite possibly the biggest physical impact your body has endured. To be able to birth a baby's head, the pelvic floor needs to extend by three times its normal length during labour. It then takes time for the pelvic floor and abdominal muscles to shorten, strengthen and function well enough again to support a woman to do impact exercise.

The pelvic floor is hidden from view, so most people don't think about it until something is wrong. Just like you wouldn't continue running if you get knee pain, incontinence is telling you to stop because something isn't quite right. It's important for women to realise that if they are exercising before these muscles are ready, they are increasing the risk of prolapse and incontinence. Instead, it is important to start with foundational exercises first, then build on this with progressive functional loading. You need a graded exercise program that is tailored to each individual body.
 
YOUR EMPOWERED MOTHERHOOD PROGRAM IS DESIGNED TO HELP WOMEN RECOVER FROM BIRTH IN A SAFE AND POSITIVE WAY. CAN YOU TELL ME ABOUT SOME OF THE KEY ELEMENTS OF YOUR BIRTH PREPARATION PROGRAM?
The Empowered Motherhood Program (EMP) focuses on educating women about birth in a fully informed way. We have videos where we discuss many of the potentially 'scary' things, for example explaining what forceps are and where they might be needed so a woman is not seeing them for the first time during labour. I strongly believe that women should not be given information for the first time in the throes of labour when they are required to make a decision that could impact them for the rest of their lives.
Women are intelligent capable beings who do not need to be in wrapped in cotton wool. I truly believe that if a woman is educated in an empowering way and able to prepare her pelvic floor for birth, it will have a huge impact on her birthing experience.
 
WE TEND TO HEAR A LOT ABOUT URINARY INCONTINENCE, BUT ANAL INCONTINENCE IS ASSOCIATED WITH MORE STIGMA. HOW DO YOU HELP WOMEN DEAL WITH THIS AND WHAT DOES YOUR APPROACH TO TREATMENT INVOLVE?
The concept of leaking urine is something many women have experienced in their life and is far more broadly discussed, so definitely has less of a "taboo" tag associated with it than anal incontinence. Anal incontinence, which is the involuntary leaking of solid stool, liquid stool or gas is far more common than realised. Childbirth, a history of constipation and obesity are the most significant contributing factors. If a woman reports any symptoms of anal incontinence, I will explain the bowel, rectal and anal sphincter function so she has a good understanding of the biomechanics and therefore what may be causing the problem.

When someone is experiencing anal incontinence, we need to think about how their anal sphincter may be functioning. I would discuss with her the gold standard of care would be to do a rectal examination to really assess the sphincter muscles and the puborectalis muscle of the pelvic floor.
I would explain that I am assessing the muscle tone, looking for any major or minor sphincter tears, scar tissue, anal reflex, and the coordination of the muscles. Treatment really does depend on the examination findings but may include a bowel diary, dietary changes, defaecation dynamics, anal sphincter and pelvic floor training, rectal balloon and rectal sensitivity training and electrical stimulation if appropriate.

These all sound quite full on, but most women are incredibly grateful to be able to participate in some treatment to help a problem that is affecting their quality of life.
ANY FINAL WORDS YOU WOULD LIKE TO SHARE?
The saying 'you don't know what you've got till it's gone,' rings true for the pelvic floor. Many women I see have taken their pelvic floor for granted. That is of course until something changes and then they are devastated they didn't do more to prevent it by being proactive. So, my parting words would be, if you have never been to see a pelvic health physiotherapist no matter what life phase you are in, do yourself a favour, invest in your health and book that appointment now!
60