Thu 17, May 2018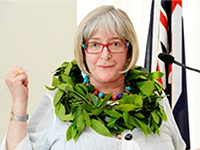 Beth became Patron of the Continence Foundation of Australia in 2013 with the aim of helping lift the stigma associated with talking about, and seeking help for, this debilitating condition. She is keen to open the floodgates of conversation about incontinence and bowel and bladder health.
"I suffered from incontinence which is thankfully now under control. I went from having to wear pads every day to not having to wear pads at all. I think it is really important that we have a conversation about it so that it is not stigmatised and people can confidently seek help and do something about their leaking."
"I give thanks to the Continence Foundation for helping me to strengthen my pelvic floor muscles to live a happy life, from when I was 30 to now that I am 69 years old – and hopefully for another 30 years," said Beth.
"I started my pelvic floor exercises when I was quite young and it is really paying off now. I can exercise, get out and about and enjoy many things that a lot of people find really quite difficult because of incontinence issues."
A lawyer by training, Beth has had an award-winning career working mainly in administrative law, with a long-standing interest in medico, legal and ethical issues.
Prior to becoming the Victoria's Health Services Commissioner, Beth was the President of the Mental Health Review Board, a Senior Legal Member of the Social Security Appeals Board and WorkCare Appeals Board and a past President of the Victorian Branch of ANZAPPL (Australian and New Zealand Association of Psychiatry, Psychology and Law).
In 2007, Beth was appointed a member of the Disability Services Board. She is currently a Legal Member, Mental Health Tribunal Victoria and Patron for – in addition to the Continence Foundation of Australia - the Satellite Foundation. She is Ambassador for Kindred Clubhouse and a Board Member of Wild at Heart. Beth is a partner in a health consultancy business Wilson and Webster, and sole owner of Lawfully Funny.
Beth has received several important awards in recognition of her achievements including the Centenary Medal for service to health (2003) and Order of Australia for significant service to the community of Victoria through the provision of dispute resolution in the area of health services (2013). In 2008 Beth was inducted onto the Victorian Honour Roll of Women for her services to women's health.
"You can do something about it. It's not normal to leak. It is common but you can manage it and if you are really diligent, in most cases it is actually curable."
"Making pelvic floor exercises a daily habit is a powerful message. It is a gift you can give yourself. It will give you confidence to enjoy life," said Beth.
You aren't alone. The National Continence Helpline 1800 33 00 66 is a free service providing information and advice on bladder, bowel and pelvic health. The experienced nurse continence specialists can help you find the right services and specialists in your area.
60