Thu 07, Jan 2021 , Bridge Magazine , Health Articles
HOW TO STAY HYDRATED IN SUMMER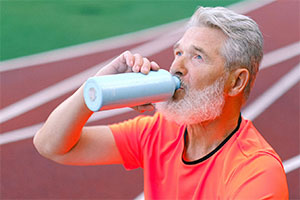 1. Get enough fluids throughout the day  
Fluid is everything you drink. It is also in a lot of what you eat, such as fruit and vegetables. 
Drinking less won't help with incontinence or bladder control issues. In fact, drinking less may make your urine more concentrated (stronger) and could irritate your bladder. Your doctor can help you find out how much fluid is right for you, as you also don't want to drink too much either.  
2. Choose water  
Alcohol, fizzy drinks and caffeinated drinks like coffee can irritate the bladder, so having mostly water is the best choice.  
3. Try creative ways of getting more fluid  
There's a reason watermelon is so popular in summer! Some foods have naturally high water content, so why not add strawberries, celery, melon and lettuce as options.  
4. Don't wait until you feel thirsty  
Some people, especially older people, don't feel thirsty but may still be dehydrated.  
5. Bring a water bottle with you  
Keys, wallet and water! This will make sure you're not stuck without access to water. Sip slowly throughout the day to stay hydrated. You might need to drink a bit faster if you are exercising or feeling hot.  
WHY IS IT IMPORTANT TO STAY HYDRATED IN THE HEAT?  
When it's hot or you're exercising, your body will react to the heat by sweating. Sweat makes your skin moist or wet and then helps you cool down when it evaporates (changes from liquid to gas). This also means you're losing water from your body. 
This story was first published in Bridge Magazine. Subscribe and receive Bridge straight to your inbox.  
60