Tue 24, Sep 2019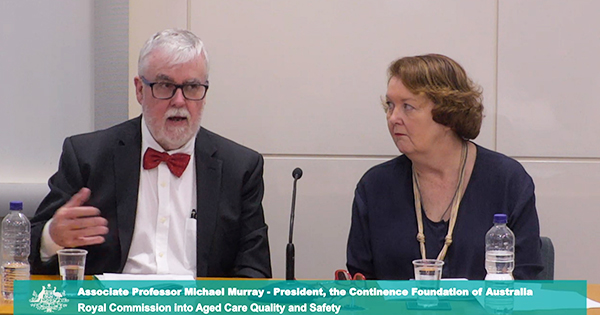 The Royal Commission into Aged Care Quality and Safety has been hearing expert evidence and experience from around Australia, as it continues its inquiry into the aged care sector.
Issues relating to continence were a focus of the Royal Commission in July, with the Darwin Public Hearing covering aspects of personal and clinical care.
Continence Foundation National President, Associate Professor Michael Murray AM, was invited to provide evidence to the Commissioners, alongside long-standing Foundation professional member, Dr Joan Ostaszkiewicz.
Assoc Prof Murray provided context to incontinence's major impact in aged care, saying that "it's a factor in precipitating people's admission to residential care."
Combining his professional and lived experience of incontinence, Assoc Prof Murray highlighted the importance of retaining dignity and choice.
"Maybe grey hair comes, but dignity doesn't get lost."
Assoc Prof Murray and Dr Ostaszkiewicz also gave evidence on the barriers to quality care, in particular: lack of awareness of incontinence, limited training for health and aged care professionals, and inappropriate use of continence aids.
The Royal Commission was made aware of the clinical consequences of poor continence management, which include reduced quality of life, risk of falls, skin injuries, depression and social isolation.
The Royal Commission into Aged Care Quality and Safety will provide an interim report by 31 October 2019, with a final report released by 12 November 2020.
This story was first published in Bridge Magazine. Subscribe to Bridge online.
60