Tue 30, Aug 2022 , News , Bridge Magazine
WHAT ARE SOME OF THE KEY SIGNS OF PERIMENOPAUSE?
Perimenopause can begin anywhere from five to eight years before menopause and women may start to experience symptoms from their early 40s. The early signs of perimenopause are changes in the menstrual cycle, which may become heavier, lighter, longer, or shorter, changes in mood such as irritability, anxiety or low mood, and other physical symptoms such as hot flushes, night sweats and sleep disturbances. Women often feel they are the only one going through this and can tend to feel isolated and ashamed.

Unpredictability in mood occurs because hormone levels are changing. Low mood and anxiety or mood disturbances can be early symptoms of perimenopause, which is under recognised, and women may be diagnosed as depressed and put onto antidepressants.
Menopause is defined as the last menstrual period and the average age of onset is 51.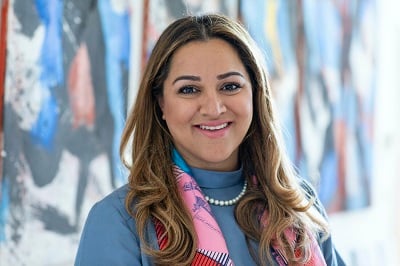 WHY DO YOU THINK WOMEN MIGHT BE RELUCTANT
TO SEEK HELP FOR MENOPAUSAL SYMPTOMS?
Many women believe their symptoms are just something they need to put up with because that's what we've been conditioned to do, and because we don't talk about it, women don't necessarily understand it. Another reason is women may be embarrassed or uncomfortable talking about symptoms like low libido and a dry vagina. There is also a lot of stigma and shame attached to this stage of life, as it is just not spoken about.

We need to have a more positive narrative around menopause and encourage women to seek answers and support. Whenever we don't talk about things openly there is a lot of shame and shame leads to isolation. The impact of menopause on emotional and mental health is just not discussed.

The classic symptoms of hot flushes and night sweats, most women can find ways to deal with. But it's the mental health aspect that bothers many women – anxiety, depression, low mood, low energy and motivation and the cognitive symptoms that really impact women's ability to function. Common cognitive symptoms include brain fog, reduced concentration, forgetfulness and losing words mid-sentence.

The short-term goal is quality of life. I ask women how are you functioning? Are you functioning to your best ability at home and at work? Are you functioning as a mother/partner/colleague? If a woman is not, then she needs help.
SOME WOMEN DESCRIBE THE SUDDEN RETURN OF ANXIETY AND DEPRESSIVE SYMPTOMS DURING  MENOPAUSE LIKE BEING HIT BY A FREIGHT TRAIN! IS  THIS A COMMON EXPERIENCE AND WHY IS IT SO INTENSE?
I like to say that hormone health is mental health. This is because of the direct impact of our hormones on our mental and cognitive function. The decline in oestrogen, testosterone and progesterone can impact many aspects of our daily function.

During menopause, it is not uncommon for oestrogen levels to drop massively and quickly. I have seen them go from around 200 pmol/L down to about 20 pmol/L within a week, and yes, this could explain the suddenness and severity of symptoms a woman experiences. Due to the sudden decline in oestrogen levels this can trigger all manner of symptoms.

Many of my patients are very relieved when I tell them the way they are feeling is due to the state of their hormones and that it is likely to be temporary.
 
"Whenever we don't talk about things openly there is a lot of shame and shame leads to isolation."
YOU EXPLAIN THAT THE DECLINE IN OESTROGEN  DURING MENOPAUSE CAN SIGNIFICANTLY IMPACT MEMORY AND LEAD TO BRAIN FOG AND FORGETFULNESS. CAN YOU ELABORATE ON THE MECHANISMS FOR THIS?
Oestrogen is a fundamental resource for the female  brain and is needed for cognitive function, decision making and concentration. Oestrogen is also directly linked to serotonin – our "happy hormone." The significant drop in oestrogen during menopause has a major impact on both mood and sleep, and disturbed sleep affects brain function as well. No
wonder women experience brain fog, memory issues and can't think clearly! We do of course adapt over time, but the initial symptoms can be frightening  and bewildering for many women.

Some women worry that the brain fog, forgetfulness, and difficulty finding words mid-sentence could be an early sign of dementia, but it is important to remember that menopause is not "all in your mind."

Menopause is a time of huge physiological change. It is not in your mind. The physical and emotional symptoms can be very debilitating and sometimes frightening for many women.

CAN YOU DESCRIBE THE IMPACT OF MENOPAUSE ON CONTINENCE AND THE PHYSIOLOGICAL REASONS A MENOPAUSAL WOMAN MAY EXPERIENCE OVERACTIVE BLADDER AND/OR URGE INCONTINENCE*?
When oestrogen levels decline, especially one to two years post menopause, women can experience vaginal dryness and urinary frequency. The term for this is the genitourinary syndrome of menopause.

This may present as vaginal dryness and for some women, itchiness, recurrent urinary tract infections and urge incontinence. Vaginal dryness can also lead to painful sexual intercourse which may impact relationships. Women can use vaginal lubricants prior to intercourse, and for many women localised vaginal oestrogen or using moisturisers regularly will help relieve their symptoms.

This is a really important time for women to focus on their pelvic health, which includes bladder and vaginal health. Women need to make sure they do their pelvic floor muscle exercises regularly and Pilates is excellent for strengthening the pelvic floor muscles as well.
*Urge incontinence is the involuntary loss of urine associated with urgency, that is a sudden and strong need to urinate.
"Menopause is a unique journey for every woman with a different pathway for each."

WHY DO YOU THINK MENOPAUSE IS SUCH A TOUGH TIME FOR SO MANY WOMEN?
There is a lack of awareness and education so many women are unable to recognise their symptoms. They are also unaware of choices and don't know where to seek help and are often embarrassed to talk about it. 

Normally, when transitioning through menopause, a woman will have a reserve supply of oestrogen from her adrenal glands and fat cells. This is why there is a natural increase in fatty tissue around the tummy – nature's way of protecting us. However, women worry if they gain weight, so they go out and do more exercise which places even more stress on the body.

From the ages of 40 to 60 years, women tend to gain half a kilogram per year and the hormonal change around menopause increases the fat distribution around the abdomen. We also lose muscle mass with age and our metabolism can slow down, particularly if we become more sedentary. Not surprisingly in our image obsessed culture, these changes can affect a woman's body image and self-esteem.

The other issue is that so many women reaching menopause are "burnt out," their adrenal glands are depleted, and their sympathetic nervous system is in overdrive. Generally, the lifestyles we lead mean we have chronic, elevated cortisol making the menopausal transition harder. Women's menopausal symptoms are then more severe because they don't have the adrenal reserves they need.

There are so many changes women must contend with and there is no manual telling you what to do after the age of 50. I see this as a window of opportunity, a time to evaluate, reprioritise your life, put yourself on top for once and reset.

This means emotionally and mentally as well as physically. We are so socially conditioned to be caregivers for our whole lives, this is a time when a woman can make sure everything she does aligns with her own personal value system. This is often a time when women decide they can finally say 'no' and write their own manual on how they want to live the rest of their lives.
"We've lost the ability to adapt easily. We reach menopause without the reserve we need. On top of this we have processed diets, don't exercise properly, sleep less and we are chronically stressed"
Our social conditioning means there is no visibility and representation of women in midlife, especially in the media. There is so much more isolation, but older women have so much to offer. In other cultures, when a woman gets older, she is seen as someone you go to for advice, a valued and respected member of her society. It is also okay for women to become a bit plumper and round. I am from an Asian background and that is how it was for my Aunties, none of whom experienced severe menopausal symptoms.

Menopause is not the end, it's the beginning and can be the most liberating time in a woman's life; the reproductive burden is gone, she is no longer menstruating and having to look after children. I think with the right mindset and support women can go on to live their best life.
DR KHAN'S ADVICE FOR A HEALTHY MENOPAUSAL TRANSITION:
Daily stress management strategies - yoga, mindfulness, meditation, hypnotherapy
High plant-based diet with lots of cruciferous vegetables – broccoli, cauliflower, bok choy, cabbage
Reduce alcohol and caffeine
Exercise regularly and focus on strength training and lifting weights
Look after your mindset. Associate with like-minded women and have good, positive social connections and support.
WHAT IS THE SYMPATHETIC NERVOUS SYSTEM?
The sympathetic nervous system (SNS) is part of the autonomic nervous system (ANS) and is activated as our involuntary response to stressful and dangerous situations, known as our "fight-or-flight" response. It works with the parasympathetic nervous system, which calms us down, to maintain our baseline and regular body function. When the SNS is switched on our adrenal glands release the stress hormones adrenaline and cortisol, which produce the symptoms we associate with stress such as sweating, rapid heartbeat and shortness of breath. When the SNS is constantly switched on we remain in this hyperalert stage which can lead to chronic stress, depression, and anxiety.
60