Wed 08, Jun 2022 , News , Bridge Magazine
Each year, the Continence Foundation of Australia calls for nominations for the Carer of the Year Award, to publicly recognise the important role that carers hold in ensuring the health and wellbeing of so many in our community. The Carer of the Year Award was presented during the National Conference on Incontinence in May 2022.

This year the Carer of the Year award goes to Joanne (Jo) McGee from South Australia. Jo was nominated by Mrs Nicola Bennett, a Community Spinal Nurse who worked with Jo and her husband, Vin. Nicola was amazed to witness Jo in action, giving her husband with a high-level disability such unwavering devotion to living a full and dignified life.
Jo has been the sole carer for her husband since 1976 after a truck accident resulted in him sustaining C5 tetraplegia ASIA Impairment Scale A, just fourteen months after they were married. She took him home from the rehabilitation centre and just got on with living the best life they could, and she continues to do that today some 45 years later.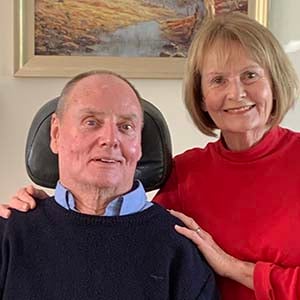 In her nomination, Nicola wrote: "as a team they have travelled and had a social life and done as may things as a "normal" couple would do but understanding how much effort is involved in achieving this is mind boggling. I have never heard her complain and when she can't or doesn't know how to do something she automatically consults her husband for advice and instructions. She always makes sure he is a part of everything they do, and it is hard to describe the power and connection this couple have. It is just an amazing quality of life they have created. Vin is one of the most dignified and proud men I know, and he often refers to how Jo has
created such a wonderful life for them both."
Jo didn't realise that the care she provided was special until she received stunned reactions from hospital staff upon learning she was Vin's only carer. "I did it by myself for thirty-seven years. Even if he had stayed in hospital, the support wasn't there. I never resented it because it's just what we do. We work things out together; he works out how to practically do things (transfer into the car, how to shower) and I do it for him. He makes all the decisions about his care," says Jo.
At the time of Vin's accident, there was no funding system such as the NDIS to provide support, so Jo and Vin became accustomed to working things out by themselves. In 2010, after Vin underwent
an extended stint in hospital, Jo called the Spinal Injuries Outpatient Unit for assistance who suggested contacting the Paraplegic Quadriplegic Association. The organisation sent community nurse Nicola Bennett to visit Jo and Vin at their home.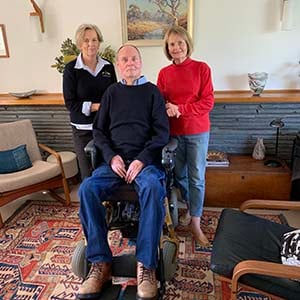 "At first, when we found out we could get paid carers, we didn't want them because we wanted to be private and independent," says Jo. "Nicola was invaluable, she gently persuaded us to get help."
As a result of Nicola's prompting, Jo and Vin have only recently taken on support workers to assist Jo with her husband's daily care and give her a break.
"Even though you know what's best for the care you provide, you also need to make some time for yourself to relax," she says.
Ever humble, Jo says she accepted the nomination for the Continence Foundation Carer of the Year Award because she was honoured that someone as experienced as Nicola considered her.
Congratulations to Jo, a well-deserved recipient of this award. In recognition of such inspiring individuals, we would like to thank all carers for your dedication and ongoing care.
60