Mon 05, Dec 2022 , Bridge Magazine
The National Disability Insurance Scheme (NDIS) provides individualised support for people with a permanent and significant disability. The scheme is administered by the National Disability Insurance Agency (NDIA) and is designed for individual control with greater flexibility and choice.
What will the NDIS fund?
The NDIS will fund reasonable and necessary supports.
A 'reasonable' support is one that is fair and represents good value for money.

A 'necessary' support is one which you must have to live your life independently.
The NDIS pays for different supports for different people depending on their goals. Two people with similar impairments may have very different NDIS plans because their personal goals may not be the same. Examples of the supports the NDIS will pay for include:
Transport

Support workers

Therapy

Aids and equipment

Workplace help

Home or vehicle modification
Who is eligible for the NDIS?
To be eligible for the NDIS you need to be:
Under 65 years of age

An Australian citizen

Have a permanent impairment and either can't join in activities or do things without help from others, assistive technology, equipment, or home modifications.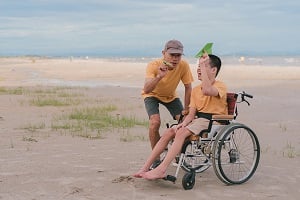 The NDIS website's Eligibility Checklist will give you an indication of your eligibility.
If you are eligible and you require continence products, these will be considered in your planning discussion and if approved, will replace CAPS payments. If you are not eligible for NDIS, you should continue to receive CAPS.
How to apply
If you are eligible for the NDIS, the NDIA will meet with you, together with your family or carer if you wish. Together you decide which supports you need and develop a NDIS plan. Funding will be allocated depending on your needs.
Common questions about incontinence and NDIS planning
Why is preparing for a planning meeting important?
Preparing for a planning meeting with the NDIA or Local Area Coordinator (LAC) is important to get the best from your NDIS funding.
What do you need to think about when planning?
You need to think about considerations such as:
your aspirations

your goals

your strengths and abilities
the type of supports you need

steps that will help you achieve your goals
Your plan can be managed by:
yourself (with or without family/friend/carer support)

a registered plan management provider

the NDIA, or

a combination of the above.
How are continence products and aids funded under the NDIS?
If your continence issues are due to your disability, all your continence products and aids should be supplied through your NDIS plan. These products and aids must be included in your plan.
What do I need to think about regarding incontinence in the planning process?
Ask yourself:
Which products do I use now?

Are the products that I am currently using managing my incontinence effectively?

Should I have a continence assessment to make sure I am managing my incontinence effectively?

Should I have a continence review to determine if my needs have changed since my last assessment?

Is my incontinence preventing me from achieving my goals? If so, what can be done to improve the situation?

Can my incontinence be better managed?
You may not be able to answer all these questions. You can get help from the National Continence Helpline by calling 1800 33 00 66 to speak to a Nurse Continence Specialist for advice and information about local continence services and suitable products / aids.
 
Your continence products will be sent to you at intervals of your choosing. Think about the storage of continence products and make sure delivery charges are included in your plan.
 
It is vital that anyone assisting in the development of NDIS plans (including NDIS planners, Local Area Coordinators or other service providers) understands the importance of taking into account your continence needs.
For continence assessments, therapy and reviews are funded under Capacity Building – Improved Daily Living.
 
A comprehensive continence assessment takes time. You will require a minimum of 4-6 hours for a full assessment, report and product prescription. If your needs are complex and include multiple products or travel then additional hours may be required.
A Continence Plan and/or Therapy may be recommended in the initial report. Additional hours may be required to implement a continence plan and/or therapy to improve your continence status and achieve your goals.
60