The Continence Foundation of Australia is proud to announce the Carer of the Year award winner, which was presented at the joint 31st NCOI & 4th FUS Conference 2023 in Adelaide.
About the award
The Continence Foundation of Australia's Carer of the Year Award acknowledges the important – but often overlooked – role of the 2.65 million at-home carers across Australia. Many of these carers are responsible for the complex role of providing bladder and bowel care.
"This annual award is to honour the unpaid incontinence carers that make such a difference to the community and their loved ones", CEO of the Continence Foundation Rowan Cockerell said.
"Carers should be acknowledged for the vital role they perform. By nominating someone you know for the Continence Carer of the Year award you are showing you value the extraordinary contribution they make".
Congratulations to the 2023 Continence Foundation of Australia Carer of the Year Award Winner:
Every year, the Continence Foundation of Australia calls for nominations for the Carer of the Year Award, which publicly acknowledges the vital role that carers play in supporting the health and wellbeing of so many in our community. The Carer of the Year Award was presented during the National Conference on Incontinence in June 2023.

The recipient of the 2023 Carer of the Year Award is Jenny Roe, who was nominated by continence nurse, Bronwyn Peck.

Jenny has been caring for both of her elderly parents in their adjoining house for the past 3 years. Jenny's husband Darryl has also recently been diagnosed with Parkinson's Disease and is starting to require more care, so she currently has three people relying on her for assistance.
Jenny is a most accomplished professional, having worked as a senior teacher at a prestigious school for girls until 2022. Providing continence care to others was not within Jenny's professional experience. Most recently, the greatest challenge for Jenny has been having to assist with personal care, including continence care, for both her parents. Bronwyn writes that it is a challenge having to provide continence and sensitive personal care to your own parents.
The second challenge for Jenny is that she has now become quite house-bound due to her carer responsibilities. Jenny was a very busy, social person who loved going out, travelling and having a stream of friends and family visit on a regular basis.
She accepts this loss of her freedom and independence most admirably and without complaint. She reflects that she feels privileged to be able to care for those she loves in their time of need.
Jenny's Mum Joan is 96 and has dementia. Joan requires assistance with most aspects of daily living. Jenny's Dad Russell is 95 and has cognitive and physical decline. Whilst Joan and Russell receive a small amount of local council assistance with housework and carer support, Jenny provides the bulk of support for her Mum with showering, dressing, toileting, laundry, food preparation and appointments.
Care for Jenny's husband Darryl includes emotional support with his recent diagnosis of Parkinson's Disease, as well as taking him to appointments and reminding him to take his medication. He is also physically and cognitively declining and will need increasing levels of support soon.
Jenny has only recently retired from her life-long career as a primary teacher. She only retired due to the increasing demands of her aging parents and their need for her to be at home. Jenny does not qualify for any financial support from the government for the care that she provides.
As well as caring for these three older family members, Jenny also regularly cares for her grandchildren who spend part of their lives at Jenny's house, due to parental separation. Jenny's life is very busy caring for all four generations in her family!
Bronwyn reflects, "as a continence nurse, I am in awe of her endless compassion, and I think we could all benefit from a 'sprinkle' of her magic, as she genuinely does believe that her situation is not a burden but rather a privilege."
Jenny has kindly shared suggestions which have worked for her when caring for her elderly parents:
Allow the person in your care to help where possible (e.g. preparing vegies for a meal)
Bake simple items which would be familiar e.g. scones 
Always speak courteously, even when it is challenging
Get up early each day to be organised
Always speak calmly and cheerfully
Be courteous, even if that courtesy is not returned
Be patient, especially with those with dementia. 
Don't interrupt them or tell them they are wrong. Just make a cheerful comment
Maintain a sense of humour
Drive or walk to interesting or attractive places every few days
If feasible, have a garden bed in a box at waist height for an adult
Complete puzzles together or watch ecards on a laptop
Give praise for tasks well done. Use a gentle voice
Invite visitors to chat to the person you care for and to give you, the carer, company
Learn to love those in your care. Read to them, listen to music, look at photos. Enjoy every day given to you!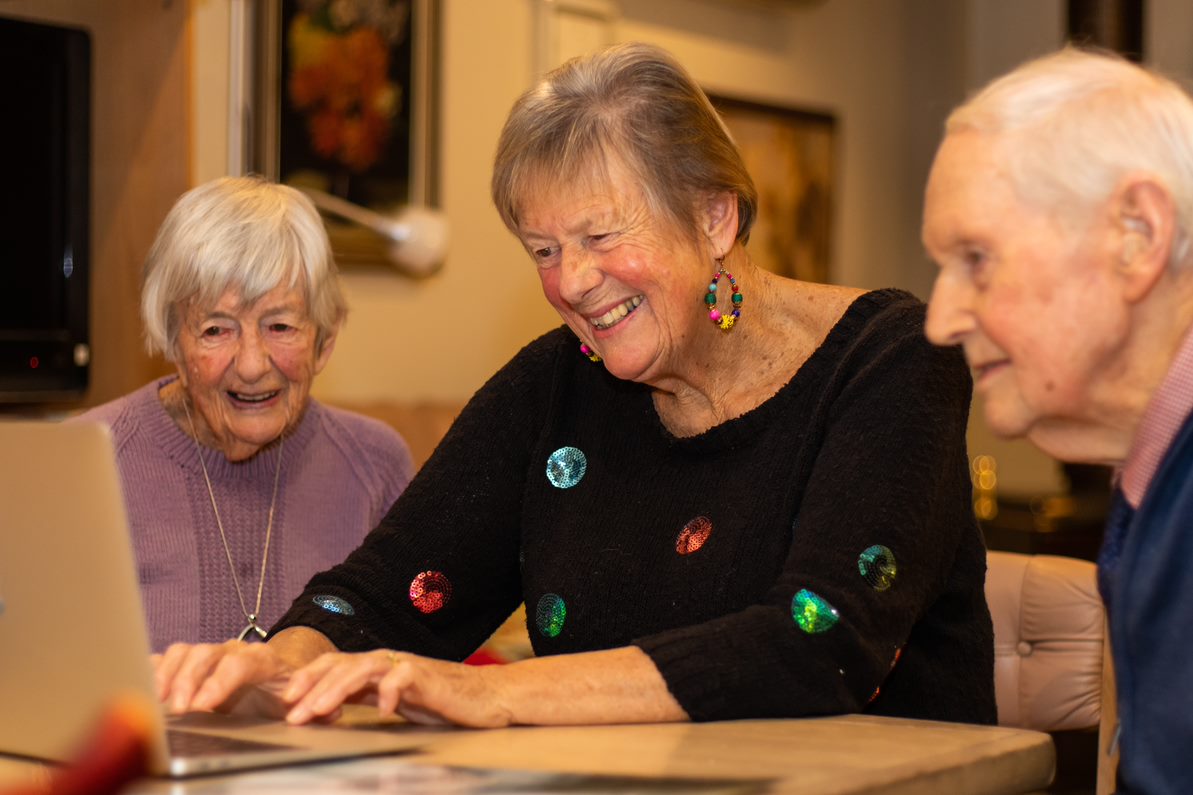 100