Wed 29, May 2019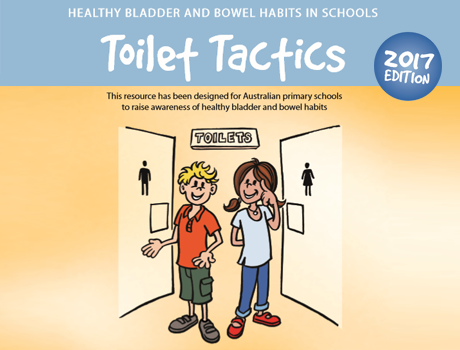 Ghastly primary school toilets can have a negative impact on a child's learning as well as physical and psychological health, which is why Australia's peak body for bowel and bladder health is challenging schools across Australia to help eliminate the bad childhood experiences that start in the toilet block.
The Continence Foundation of Australia said more than two million children, at more than 7,000 Australian primary schools, are impacted by their school toilets. The Foundation has released an updated 2017 Toilet Tactics Kit to promote healthy toilet habits and improve standards of toilets in Australian schools.
Chief Executive, Rowan Cockerell said the importance of establishing a positive attitude to healthy toilet habits at a young age cannot be underestimated.
"It is widely accepted that the foundational years of education can set children up for life and toilet habits and attitudes are no different.  Research shows bladder and bowel problems can have a negative impact on a child's self-esteem and quality of life1 and we want to make sure Australian kids have access to toilets that don't hold them back," she said.
Already 1,594 health professionals have registered their support of the Continence Foundation's Toilet Tactics Kit and 1,817 Australian primary schools have taken up the challenge.
Mrs Cockerell said a Swedish study[1] revealed that many children with negative associations with school toilets adopt unhealthy toilet habits that can persist into adult life. If incontinence isn't handled sensitively in these formative years, children may experience ongoing incontinence issues[2] and psychological consequences[3].
"Unpleasant school toilets are a recognised problem in many countries and Australia is no exception. Reports of bullying in school toilets are not uncommon, and there are still some teachers who won't let children go to the toilet during class time.  But we can change these negative experiences here and now," she said.
Research shows children's perceptions of school toilets and restricted access to toilets can have a negative impact on children's health and wellbeing, and ability to learn.2, 3
"If toilets are dirty, dingy, places where 'bad things' happen or are inaccessible, children will be less likely to use them.  This can not only affect their bladder and bowel health but their ability to focus in class.  And because learning - like toilet use - is about habits, this can have long-term impacts on children's wellbeing," she said.
Children's mental health can be greatly affected by traumatic toilet experiences with research showing children with continence issues being more likely to be victims or perpetrators of overt bullying.2, 4, 5
"Incontinence is socially and emotionally debilitating.  It has strong links to depression in adults and children, who often either internalise their angst or act out against those around them.  But by changing unhealthy habits early, we can help children maintain healthy bladders and bowels and improve their perspective of the world," she said.
The 2017 Toilet Tactics Kit teaches children how to adopt lifelong healthy bowel and bladder habits, and illuminates teachers and parents about the importance of encouraging and reinforcing good practices early.
"Through the Toilet Tactics Kit, children learn about diet, exercise, and how their bladder and bowel work. They learn about hygiene, how to sit on a toilet correctly, the importance of responding to the body's signals, and how holding on can lead to problems," she said.
Toilet Tactics provides checklists and tips for the school to implement to ensure their toilet environments best support a positive experience for their students. It helps teachers recognise the signs a child may be experiencing bladder or bowel control issues, giving them strategies to handle these situations sensitively and effectively.
Mrs Cockerell said the Continence Foundation is challenging schools around Australia to take up the Toilet Tactics challenge by registering for the free kit at continence.org.au/toilet-tactics
"With more than two million children in primary schools around Australia, we have a chance to set these kids up for life with healthy toilet experiences and attitudes that can prevent incontinence issues before they arise," she said.
Principals, teachers, parents and school committees interested in joining the Toilet Tactics challengecan request a free kit or call the National Continence Helpline on 1800 33 00 66.
[1] Lundblad and Hellstrom, 2005
[2] Bower et. al.,­­­­­ 2005
[3] Joinson et.al., 2006
60